Whisky Tasting Night 28 Feb: Enjoy 10 Varieties of Whisky with Selective Canapés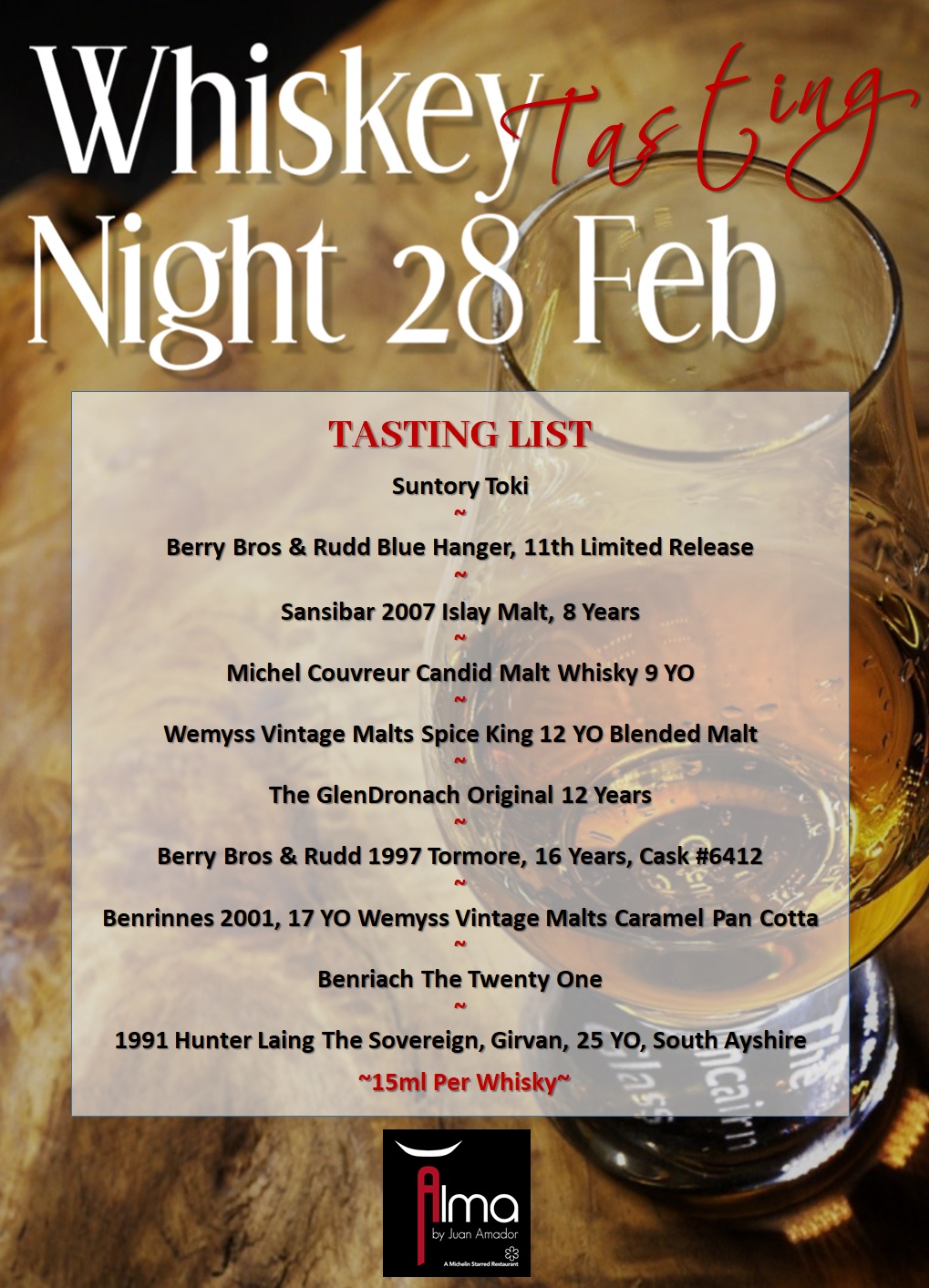 Suntory Toki
Since 1923, Suntory has pioneered the Art of Japanese Whisky. The creation and innovation unique to Suntory Whisky are revered among whisky lovers worldwide.
Berry Bros & Rudd Blue Hanger, 11th Limited Release
The 11th edition of Berry Bros & Rudd's blended Scotch malt series, Blue Hanger, was first released in 2014. It is a vatting of 8 casks – 4 hogsheads, 3 sherry butts and 1 puncheons – and contains both peated and unpeated Bunnahabhain.
Sansibar 2007 Islay Malt, 8 Years
The German independent bottlers Sansibar, select exceptional whisky casks from the most renowned Scotch distilleries, as well as Caribbean rums, to have them served in their restaurant based on the Island of Sylt. This Islay Malt was distilled at an unknown Islay distillery in 2007 and matured in a bourbon cask for 8 years before being bottled by indie bottlers, Sansibar & Spirits Shop Selection in 2015. It's a single cask whisky that's bursting with a range of delectable, moreish notes (including gentle peat smoke) that make you want to savour every drop. Only 323 cask strength bottles were produced.
Michel Couvreur Candid Malt Whisky 9 YO
This excellent and unusual whisky begins as a peaty, iodine malt spirit before aging for nearly a decade in demi PX casks in the driest part of the Couvreur cellar. It is then transferred to the very humid cellar for the final two years of aging. The result is a wonderfully balanced whisky with great tension between the savory malt and the sweet sherry flavors. Gentle peat, sweet herbs, rich almonds and a subtle elegant finish. A welcome addition to the exceptional Michel Couvreur line.
Wemyss Vintage Malts Spice King 12 YO Blended Malt
Aged for a minimum of twelve years, this whisky earned the title "Best Blended Malt Scotch" from Whisky Magazine in 2013.
Despite its name, Spice King has a sweet aroma, with hints of vanilla and honey that are complemented by notes of oak and toffee. The initial flavor is slightly sweet but fades to bold notes of spices, including cinnamon apple, white pepper and baking spices with a touch of smoke and salt. The medium-long finish ends with a sweet hint of vanilla.
Spice King 12 Year Old Blended Malt Scotch Whisky earned the title "Best Blended Malt Scotch" from Whisky Magazine in 2013. In addition, it earned the Gold Medal at the San Francisco World Spirits Competition in 2013 and the Silver Medal at the International Wine & Spirits Competition in 2011.
The GlenDronach Original 12 Years
If sherried single malt is very much your thing, then GlenDronach is a name you should get to know very well. The distillery resides in the Highlands, busily working away on some incredible expressions, with sherried malt sitting at the core of many of them. This particular dram, The GlenDronach 12-Year-Old, is allowed to age in a combination of Oloroso and Pedro Ximénez casks from Spain, resulting in generous helpings of dried fruit and Christmas spice running through it. The GlenDronach 12-year-old Original is a sweet, creamy dram bottled at 43% ABV and natural in colour.
Berry Bros & Rudd 1997 Tormore, 16 Years, Cask #6412
Tormore is a relatively young Speyside whisky distillery, founded in 1960 primarily to produce whisky for use in Long John blends, and soon after the Tormore malt was also used among Ballantine's blends. In 1991 Tormore was one of the whiskies included in the 'Caledonian Malts,' alongside Glendronach, Laphroaig and Miltonduff. Tormore produces a few distillery bottlings, including a 10yo, 15yo and Cask Strength malt. Other independent bottlings are more commonplace. There is a time capsule buried in the forecourt of the distillery which is meant to be opened in 2060, and it contains, among other things, a tregnum of Long John blend, which, after 100 years of aging, should be a formidable drink for the person lucky enough to unearth the capsule.
Benrinnes 2001, 17 YO Wemyss Vintage Malts Caramel Pan Cotta
Another mouthwatering Wemyss Malts bottling here – this time from the beautiful Benrinnes Distillery! Titled Caramel Panna Cotta, this single malt was aged from 2001 to 2018 in a single hogshead cask, before being bottled with an outturn of 256 bottles. The name is a hint to its flavour profile, so those of you with a sweet tooth ought to find this one particularly enjoyable.
Benriach The Twenty One
Fantastic Speyside single malt from the Benriach Distillery, matured for 21 years in a rather intriguing combination of casks – bourbon barrels, sherry casks, virgin oak casks, and Bordeaux red wine casks, to be specific. Oodles of fruity notes, blending brilliantly with warming oak and fragrant wafts of smoke – an exceptional whisky from Dr. Rachel Barrie and her team.
1991 Hunter Laing The Sovereign, Girvan, 25 YO, South Ayshire
A single cask bottling of Girvan's delicious single grain Scotch whisky, aged in a bourbon barrel for 25 years. This was distilled in October 1991 and bottled in March 2017 by Hunter Laing for The Sovereign range. 342 bottles were produced, presented at cask strength.
Price: $88++ Per Pax
Date: 28 Feb 2022
Seating: 6pm / 630pm
All Session Ends at 9pm
Limited Ala Carte Dishes Will be Available.
There will be also a List of the Featured Whisky for Sales During the Evening.
For Reservations, Call Us at 6735 9937 or Email: reservations@alma.sg
If You Are Not Able to Reach Us, Please Submit via our "RSVP Page".
A $50 Deposit Per Pax is Required to Secure Your Table.
We Hope to Seek Your Understanding.

For PayNow, Our UEN Number would be 201437207MSGD (Vino Vovo Pte Ltd).
For Bank Transfer, DBS Current Account 1009033398, Swift Code: DBSSSGSG, Bank Address: 302 Tanglin Rd Singapore 247971.
Latest Dine-In Regulations by the Government Applies.
For Other T&C, Visit "HERE"