A Night with Bodegas Arzuaga Wines | Dining Experience on 10th May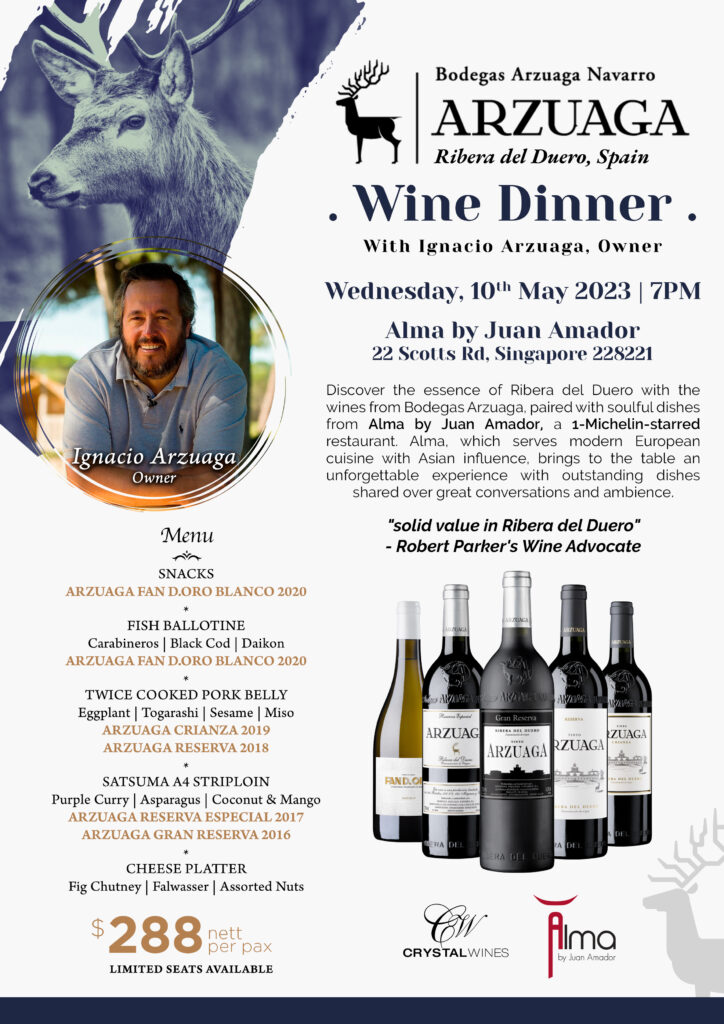 Founded in the early 90s, Arzuaga Navarro is one of Spain's best wineries located in Valladolid at the heart of Ribera del Duero. Quality is fundamental in Arzuaga, it is the most pampered and cared-for aspect. Bodegas Arzuaga has 210 hectares of vineyards, distributed between the surroundings of the winery and the natural space of the La Planta estate.
The Arzuaga vineyards enjoy a unique climate: the day is characterized by a clear sun, while the night is cool and humid. This climatic combination makes the ripening of the grapes slow and perfect, resulting in a healthy fruit, stained and sugary, with an aromatic acidity. In this Castilian region, with low fertility soils, the Tinto Fino or Tempranillo varieties are grown, as well as the French Cabernet Sauvignon and Merlot. 80% of the vines are over 20 years old under production of more or less than 4.00 kg/ha. On the other hand, Bodegas Arzuaga owns vineyards outside the province of Valladolid, specifically in the town of Malagón, in Ciudad Real, where it makes Pago Florentino wine.