4 Hands Dining Experience with Chef De Cuisine, Arnaud Dunand Sauthier of two Michelin starred Le Normandie at Mandarin Oriental, Bangkok.
Happening from 23 April to 27 April 2019
Free Parking at Goodwood Park Hotel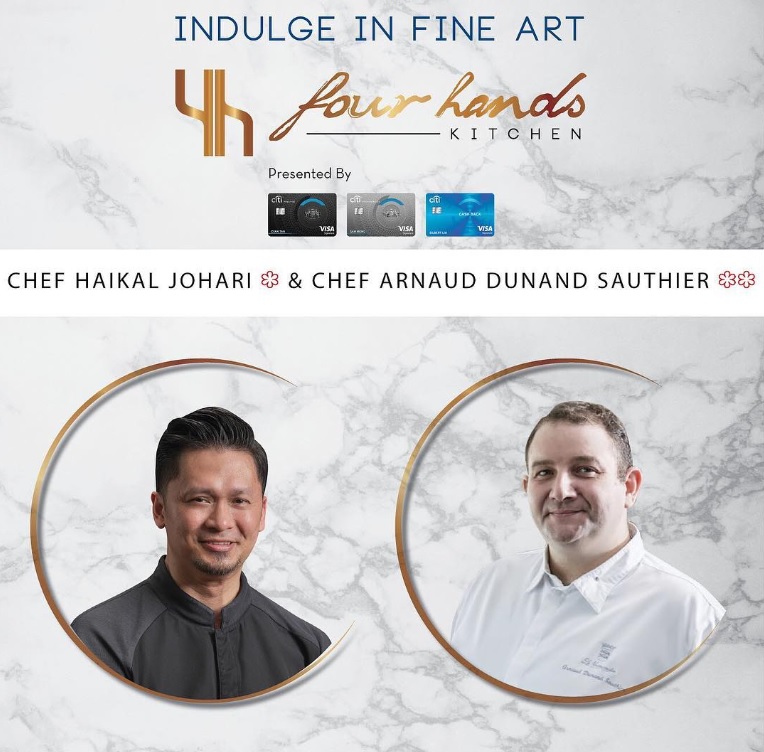 4 Course Lunch
SNACKS
Tropea Onion | Pantelleria Caper | Pancetta
HUÎTRES GILLARDEAU
Lukewarm Oysters from Normandie | Black Radish Bee Pollen
GREATER AMBERJACK
Parsnip | Sweetbread | Saikyo Miso
COCHON DE LAIT
Roasted Suckling Pig | White Asparagus | Bear Garlic
JAPANESE STRAWBERRY
Burnt Creme | Elderflower | Sour Plum
$78++
(BEFORE CITIBANK DISCOUNT)
6 Course Dinner
SNACKS
MONKFISH LIVER
Beetroot | Beef | Mustard
CAVIAR ET OURSIN
Sea Urchin | Potato Foam | Caviar | Champagne Sauce
ASPERGES VERTES PERTUIS
Roasted Green Asparagus | Anis and Olive Oil 'Fruiteee Noire'
MAQUEREAU E LIGNE
Wild Caught Mackerel | Fennel | Anis | Liquorice
OHMI BEEF
Ramson | Gobo | Yuzu Kosho
WILD STRAWBERRY
Umeshu | Chantilly | Smoked Koshihikari
PETIT FOUR
$218++
(BEFORE CITIBANK DISCOUNT)
This April, Chef Haikal Johari of one-Michelin-starred Alma by Juan Amador at Goodwood Park Hotel will host Guest Chef Arnaud Dunand Sauthier of Le Normandie, one of the four establishments to be awarded two Michelin stars in Bangkok.
With Chef Haikal's unique presentation on modern European cuisine with an Asian twist and Guest Chef Arnaud's expertise in contemporary French cuisine, both chefs will come together for the first time to present a week of specially curated dishes, which will delight all culinary explorers, bringing them to new heights of fine dining excellence.
Exclusivity for Citi Cardmembers, enjoy 20% off 4 Hands Kitchen Menu.
In addition, Citi Prestige Cardmembers receive exclusive dining privileges.