"20 YEARS AFTER" A FABULOUS FOUR HANDS DINNER WITH WINES OF RONDA
Michelin Star Alma by Juan Amador
brings together the two chefs,
the resident Executive Chef Haikal Johari and

the award-winning legendary Chef Anderson Ho,
for a creative and collaborative
"20 YEARS AFTER" wine dinner.
The long-time friends and renowned professionals
will showcase their creativity through
a five-course menu,
marrying the food with sustainable wines
from the Mountains of Ronda.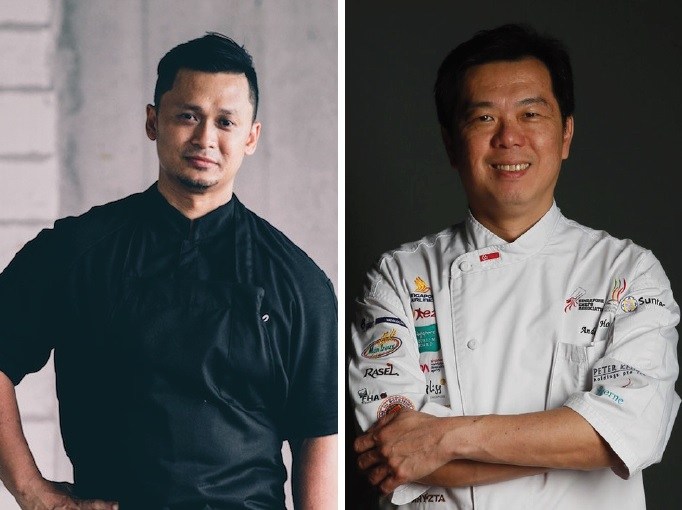 CHEF HAIKAL JOHARI
Executive Chef of Alma by Juan Amador
Restaurant, Michelin Star in 2016, 2017, 2018
Chef Haikal started his career
at the renowned Raffles Hotel where he
learned the basics of professionalism
and high standards
– lessons he remembers to this day.
He went on to work with Chef Anderson Ho
at the now-defunct Fig Leaf.
On top of leading the kitchen at Alma, Haikal
also manages all the Water Library
restaurants in Thailand,
spreading his culinary approach far and wide.
CHEF ANDERSON HO
Business Development Manager
(Executive Chef/Airline Catering)
at Snorre Food Pte Ltd
An award-winning and widely traveled chef.
His love for food and cooking
was developed through various positions
he held at prominent establishments
in Singapore including Raffles Hotel,
Fig Leaf Restaurant, Le Papillon Restaurant
and SATS Inflight Catering Kitchen.
21 MARCH 2019 7 PM
RECEPTION 
Snacks
WINE: Cava Sutra
~ ~ ~ ~
JAPANESE HAND DIVED SCALLOP
Baby Spinach & Lofoten Island's Truffle Seaweed
WINE: Ocho Y Medio Chardonnay
~ ~ ~ ~
MONKFISH LIVER
Beetroot & Beef & Mustard
WINE: Cloe Chardonnay 2016
~ ~ ~ ~
ARGENTINIAN RED SHRIMP
Angel Hair Pasta & Kombu & Shrimp Butter
WINE: Lunares Rosado 2016
~ ~ ~ ~
DUTCH VEAL
Sweetbread & Liver & Cep
WINE: DV+ 2010
~ ~ ~ ~
PRE-DESERT
Roquefort Cheese
~ ~ ~ ~
MANJARI
Blueberry & Brown Butter & Coconut
~ ~ ~ ~
ALMA'S PETIT FOUR
$188++ Per Guest